This blog goes out to 92% of my blog readers, aka the women of NatA!istheNB.
I know I'm all about emphatic declaration on this blog and the wheat may at times be hard to distinguish from the chaff. I'm hoping my good ideas ultimately bubble to the surface and you get to take something home with you when the browser light turns off and you go back to your regularly scheduled life.
Today, in the effort of full disclosure (and because I found a really really
great
deal I'm going to pass along), I'm going to emphatically declare my love for the greatest sandals of all time.
I am
not
a sandal wearer.
The Wood/Wms. women aren't blessed with the best feet
. Because my feet are long and flat, I had an aversion to wearing sandals, because they looked like pancakes. And the heel cracking was unsightly.
But
, two summers ago I found a pair of gladiators that changed my life.
The sandals are the perfect bronze color, so they can be equally worn with black or brown.
They match everything
. For someone with a penchant to look like she's sporting clown shoes, these sandals provided an elegant sleekness I'd only dreamt about from magazines. My girlfriends and sisters always commented on them; I've been bearing testimony of these sandals for more than two years. Purchased at TJ Maxx in the summer of 2007, I RAN THE ORIGINAL SANDALS INTO THE GROUND. With great luck, in the summer of 2008, I found them again and nearly cried in delight. Sadly, I thrashed that pair to pieces as well. Two years, two pairs, and I've been beating myself up for months for not purchasing a several year supply when they were $25 at TJ Maxx.
Now, here's my admonishment. Buy these sandals. Don't think, just buy. I know it's November and past season, but you
will not be sorry
when it's December and you're going to
Mexico
for Christmas or it's March and a freakishly warm week springs forth from the
Wasatch Mountains
or it's any month of the year and it's lovely because you're in
California
. Instead, you'll be so thrilled you have this fresh set of sandals to enjoy.
Oh also. THEY'RE COMFORTABLE.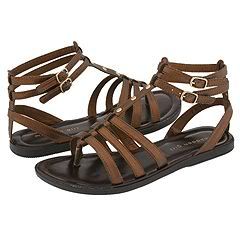 BUT WAIT
. Here comes the hard sell. They're on sale online.
BRONZE:
$20 for size 6-8.5
$25 for size 9-10
WHITE/SILVER/GOLD:
$17.83 for all sizes
BLACK/BROWN:
Buy one get one free, 2 pair for $40 (use promo code: "fallten")
This post is in no ways sponsored by Madden Girl, though I wish it were. I'm just so enthusiastic about these sandals, that I'm willing to show up to Six Flags, or Prague, or church, or anywhere else I've worn mine in the last two years and I'd be perfectly happy to --GASP!-- be wearing the same sandals as you. In fact, my sister
Mallory
bought some last year (or I bought them with mine and hand delivered them to her in Portland because she wanted them
so bad
) and has enjoyed the heck out of them as well. Right
Mal Pal
?
Wow. This is a long post for what some would consider an inconsequential matter. But here's the driving point. I own three and a half closets worth of clothing. (I'll find time to be embarrassed about this admission later.) These sandals are one of the five pieces I would unequivocally endorse to anyone.
YOU WON'T BE SORRY.